Every year the technology of what makes an electronic cigarette gets better and better. This year has been incredibly exciting. We've compiled a list here of the top best RDA's to come out so far.
Everyone has different opinions, tastes and budgets so this list has been divided up into 3 categories: Best overall, best flavor and best vapor production.
This year we've started seeing some radical new designs for things like airflow and chamber sizes. Some people prefer flavor, some are interested in cloud blowing and some want to split the difference in the middle so hopefully this guide will help you figure out what might be the best for you. For each category we've listed options for various budget considerations. We realize not everyone can afford high end RDA's and there have been some really nice offerings at lower price points this year too so its only fair that we include a variety.
Best Overall
High End: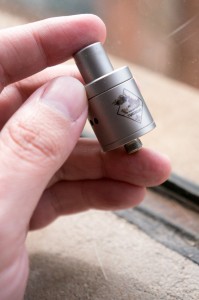 Tugboat V2 RDA
The Tugboat V2 RDA is made by Flawless. The origional version had some pretty big problems, but Version 2 is phenominal. In fact, if you only need 1 RDA, spend the money and get this one. Yes – its that good. Its a traditional 3 post design with a deep juice well, copper positive pin, conical top and adjustable air flow. Its amazing.
pros
Excellent Vapor and Flavor Production
Beautiful Finish
Excellent Power Conductivity
Air Flow Control
cons
Lots of logos – we'd prefer a clean version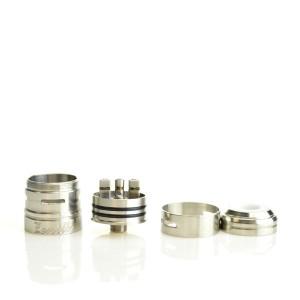 Zenith RDA
The Zenith RDA from Double Cross is a beautiful, low profile RDA with interchangeable air flow control rings. This is a nice touch as you can match it to the mod you're using. Flavor and performance are both fantastic on this device. The posts are wonderful as well – they use slots for loading your coils, this makes it really easy to build on. You do need the included tiny allen wrench to tighten the screws, but its not a big deal. The wide slots make it easy for dual and quad builds. I've been using mine in regular rotation for the last 7 months – I really love this RDA. Highy recommended.
» Get it in Brass for $119.99
» Get it in Stainless Steel for $119.99
pros
Excellent Vapor and Flavor Production
Excellent Air Flow Control Options – you can optimize for flavor or massive clouds with low ohm builds
Interchangable AFC rings
Excellent post design.
cons
Shallow Juice Well – you'll have to drip more often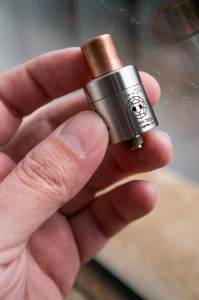 Plume Veil RDA
The Plume Veil RDA by Aethertech is currently the most sought-after RDA's on the market. It is worth every penny and all of the wait to get one. It features a 3 post design with a split on the positive post with 2 connection holes. Also amazing is the air flow design. There are 3 sets of air holes – no other RDA on the market has this design. You have the conventional air flow control on the sides of the RDA. You also have additional air flow control on the deck (these air channels lead into the bottom of the negative posts) as well as 2 more adjustable holes on the top cap. These top cap holes create a vacuum effect that is controlled by turning the drip tip to open and close them. This is the best available. Unfortunately Aethertech is a small company with high demand so they are frequently sold out. You can get a clone version to tide you over, but they have nothing on the real thing. If you see them in stock – buy one. They typically sell out in a matter of hours.
pros
air flow control is the best you'll find
flavor and vapor are the best you'll find
cons
Its hard to find in stock
Affordable: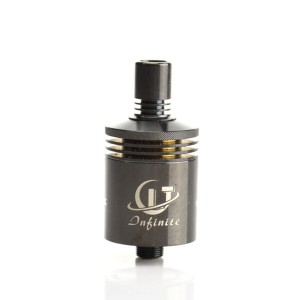 CLT RDA by Infinite
The CLT RDA by Infinite is excellent AND its affordable! If you're on a budget you'll love this one. Its about a third of the price of anything I've mentioned above and you'll love it if you want a great mix between vapor production and flavor. The CLT offers a 3 post, 4 hole design similar to the Plume Veil. Its got heat-sink fins for cooling and excellent, slotted air flow control. The only oddity here is that it uses a proprietary drip tip connection which is an odd choice. They wanted to make a wide bore design so this was the reasoning, but you have to use one of the included driptips. If you have a favorite drip tip, it won't fit. But its still an excellent RDA and the perfect choice if you're on a budget.
» Get it in Black for $29.99
» Stainless Steel for $29.99
pros
Excellent design, performance and flavor
Heat sink cooling fins
Low Price!
cons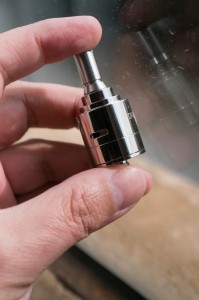 Storm RDA
The Storm RDA by FocusEcig is an EXCELLENT affordable RDA. Its an excellent performer with good flavor. The highlight here is the deep drip well. This is actually a really nice feature that's more rare in the low price category. This is a very solid device for the money. In addition to the deep well you get air flow control and excellent performance and flavor. At this price this makes an excellent backup even if you own other RDA's. The price also makes this a no-brainer. The negative posts are just screws in the deck so if you're new to building coils this could be a difficult place to start. But once you get the hang of it – its not that big of a deal.
pros
Solid performance and flavor
Deep juice well
cons
Difficult to build on for beginners
Best Flavor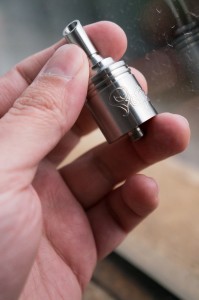 Veritas RDA
The Veritas RDA from iHybrid Mods is one of the more innovative and unique designs to come on the market this year. The air flow is extremely unique coming in from under the massive deck. You build your coils over the side of this so the air hits them from the side instead of the bottom. There are no negative posts – you attach the negative leads straight to the deck. The flavor on this thing is simply outstanding. One of the best you'll find. There is a downside though – this thing is really hard to build on and not just for beginners. Its rewarding, but if you don't like to fiddle around this might be trouble for you. If you're not afraid to learn how to build on it – its highly rewarding and worth your time.
pros
flavor!!!
air flow is very unique
cons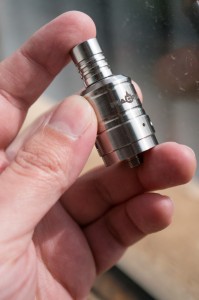 Magma RDA
The Magma RDA by Paradigm was one of the first of these uniquely designed flavor RDA's. Its still really well done. You have just 2 posts – one positive and one negative. You can build dual coils by sharing the attachments on the posts. Its got air flow control and a very decent size juice well. I still love mine and it holds up. The deep juice well makes this great for travelling as it will hold almot 20 drops. The airflow comes in beneath the coil builds which launched this whole flavor design. The only cons are that there's a lot of metal here and the design is a little clunky. I still love mine just the same. If you want flavor – this is the originl.
pros
Flavor, flavor and more flavor!!
cons
a little over designed – lots of screwing parts for the air flow control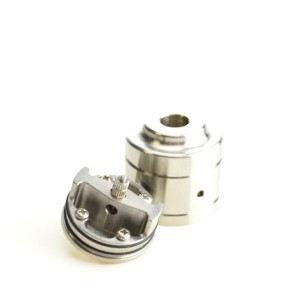 Dogbone RDA
The Dogbone RDA by iHybrid mods is the big brother to the Veritas. If you like the Veritas, but want a 26650 version – the Dogbone is for you. The airflow and build deck is like a doubled version of the Veritas. The designed is mirrored on each side. Its still hard to build on, but its quite nice when you figure it out. The other cool thing here is that dual builds make more sense here. You will have excellent vapor production as well since you're able to double what you can do on the Veritas. Quad coiling is possible here as well as there are 4 negative connection screws in the base. Perfect for 26650 users.
pros
Airflow
Size – 26650 users rejoice
cons
Build difficulty
Price – its not cheap
Affordable: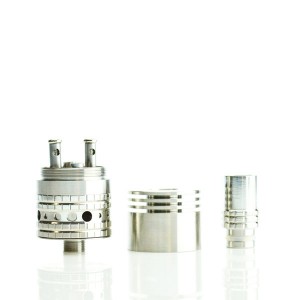 Holmes RDA
The Holmes RDA by Cigreen is one of the biggest surprises I've seen this year. This thing follows the tradition of the "flavor designs" like the one's mentioned above, but at a fraction of the price. Its impressively machined for this price point and the flavor competes with the Veritas and Magma. I really like this – a nice surprise on the market. Its got a fin design for cooling on the top cap. The vapor production is warm and tasty. The airflow control is outstanding and gives you a lot of options. I really like this device. Even if you already own one of the above, the Holmes is worth a try. If you're on a budget – this is the one to get. The flavor is just as good as any of the more expensive devices here.
pros
cons
Best Vapor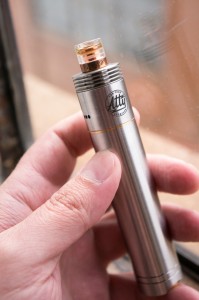 Tobh Atty
Lets start by saying the Tobh is one of my favorite RDA's to date. I own both version 1 and 2 – love and use them both. Its designed for big clouds, but the flavor is still very good as well. I almost put this one up in the overall category, but it is designed for clouds so I put it here. We're now seeing different top caps available and this design is compatable with the Vulcan as well. This is a great RDA and is well worth getting. The obvious downside is that its hard to find. Small company so the demand is really high. If you see it – get it.
pros
Performance and flavor
Build quality
Available accessories
cons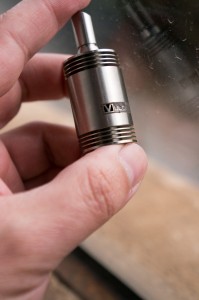 Vulcan RDA
The Vulcan is Japan's offering to the RDA market. Its impressively designed and built and the price point is incredible. This is an excellent alternative to the Tobh as it performs in the same category. In fact, the mount is interchangeable with the Tobh so you can switch out the top caps easily. The Vulcan has fixed air flow, but its set quite well. The air holes are punched into the "V" in the logo. You can dial these back if you think its too much by using the deck wall. The build sits up high which is nice as well – the air flow is actually good on this despite the lack of being able to easily adjust it. Can't find the Tobh in stock – this is your alternative. Its got the cooling fins on both the top and the bottom. This is nice if you use a box mod that gets hot, but it does make the device taller.
pros
Performance
Build quality
Design
Price
cons
Size is a little big
Lack of airflow control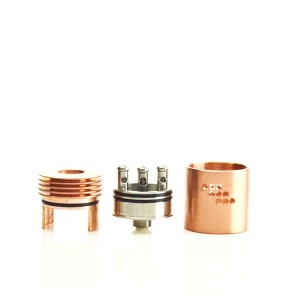 Mutation X RDA
The Mutation X is designed for cloud blowing. If you want to plume rain clouds – this is your device. Flavor is surprisingly good considering, but this is a fog machine. Its got a TON of air holes and the air flow control is actually really well thought out and versitle. Please be careful if you're a newbie here – this massive air flow is designed for people who want extreme sub ohm builds (.1 and lower). They get super hot and that's why you need this air flow control. You also need to have batteries that will handle builds this low. If you don't know what your battery will do then don't do this. Seriously folks this is extreme and I have to mention safety.
If you know what you're doing – this is your RDA. No question.
» Get it in Black for $24.99
» Get it in Copper for $29.99
» Get it in Stainless Steel for $24.99
» Get it in Stainless (26650 version) for $29.99
pros
Performance
Airflow
Build Versatility
Massive Clouds
cons
Designed for one thing only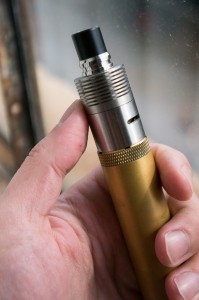 Doge Competition RDA
The Doge by Congrevape is a crowd funded RDA that's very impressive. The price point is insane first of all. If you want to blow clouds this is for you. Its called the Doge Competition because its designed for cloud competitions at vape meets. If this is your thing – this and the Mutation X are priced to get. In fact, get them both and find what works for you – these are both impressive.
The packaging is awesome as well. I know that has nothing to do with the RDA, but it says the makers care about this and I really like that attention to detail.
If you find one – get it. They are made in batches and go out of stock quick. They are good about re-stocking so they're not super rare, but just know they're not always available.
pros
Excellent Performance
Packaging
Price!
cons
Goes out of stock quickly